"Sightings with Sam" Videos
We have started a new series of short videos featuring Sam Wright on the OJT Park grounds. Topics will include native plants and trees, activity in the gardens and ponds, habitat restoration in the woods and wildlife activity. Sam has a BS degree in Wildlife Ecology and Conservation, a MS degree in Integrative Biology and 12 years of experience at the Fairchild Tropical Garden in Miami where he conducted recovery projects for endangered plant species. He has been a Trail Specialist at OJT since February 2019 working with volunteers on installation of gardens, landscape improvement projects, and habitat restoration. Leadership Team member Beverly Bowen has taped the first episode of "Sightings with Sam" and you can watch it on our YouTube channel.
Landscape Improvement by Jacob
New County Parks team member Jacob Klasinski has been placing air plants in trees at the park to enhance the landscape and provide educational opportunities. Looking good Jacob!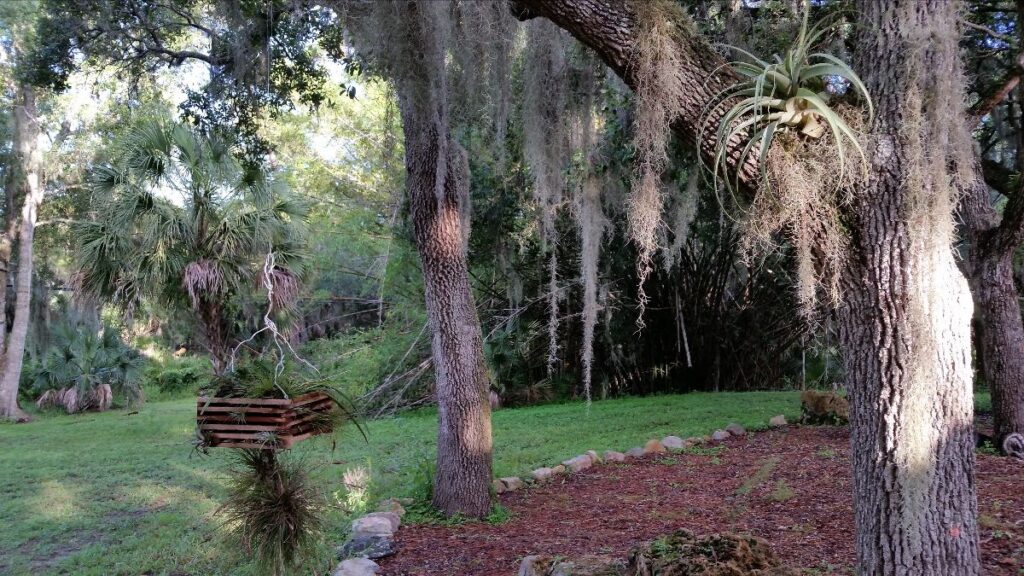 Volunteer Work Events Every Wednesday
County Parks staff at OJT continue to offer volunteer work opportunities every Wednesday from 8:30 to 11:30 am. Current work involves maintenance of gardens and removal of invasive plants. If you have an interest in working any future Wednesday, email Megan Eidel at meidel@scgov.net.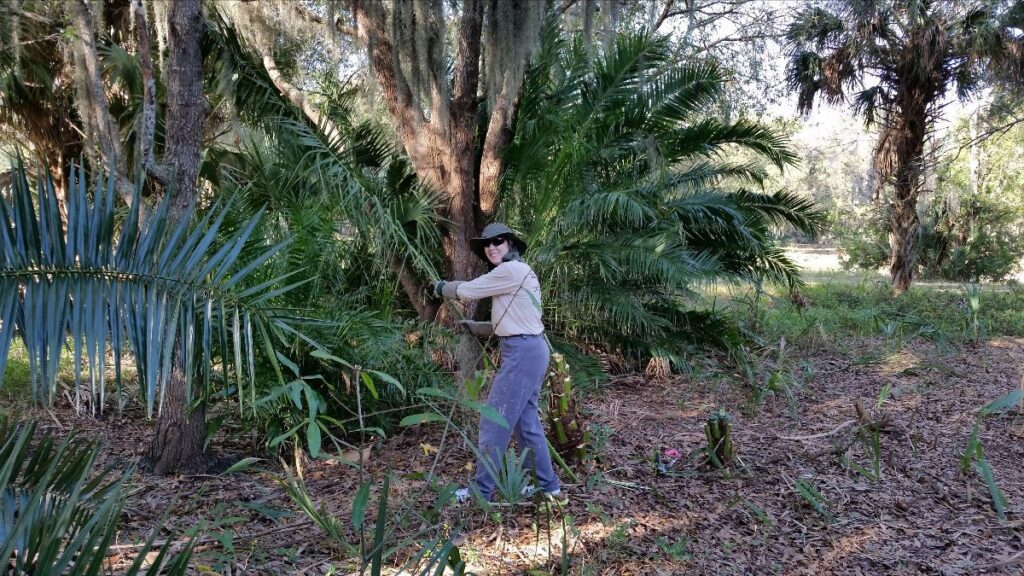 Park News From Sam Wright
There are over 91,000 insect species in the US, less than 1% of those are considered "pest" species. We don't realize that many of the insects we see in the wild and in our gardens are beneficial. Beneficial services include pollination but also management of pest species. About a month ago, I observed many aphids on the Swamp Milkweed (Asclepias incarnata) that was planted by OJT volunteers in the Rain Garden. Aphids usually don't cause serious damage to milkweed plants, yet many people will "treat" the aphids in order to get rid of them. The good news is they don't have to. Within a few days of the aphids showing up, I noticed small larvae on the milkweed.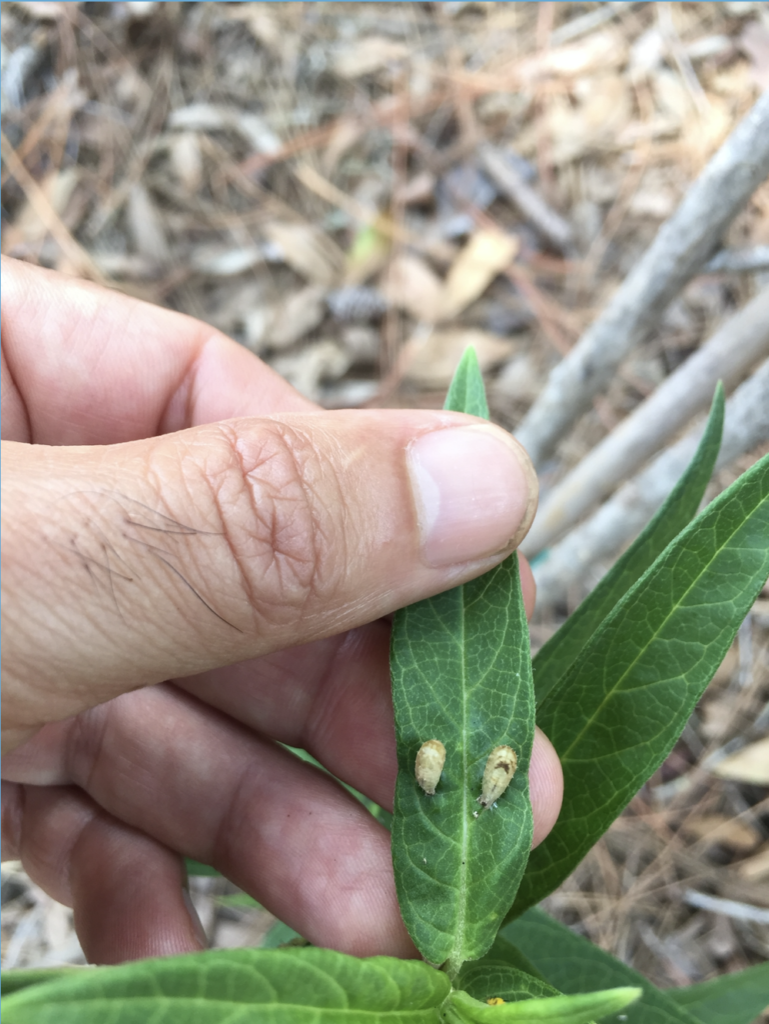 These are larvae of hoverflies (syrphid flies), which are predators of aphids. Studies have shown that hoverfly predation can reduce aphid populations by 70-100%. Hoverflies are named as such because they have the ability to hover for long periods of time and are one of the few insects that can fly backwards. Hoverflies are harmless to humans despite their similar appearance to wasps and bees, which deters predators.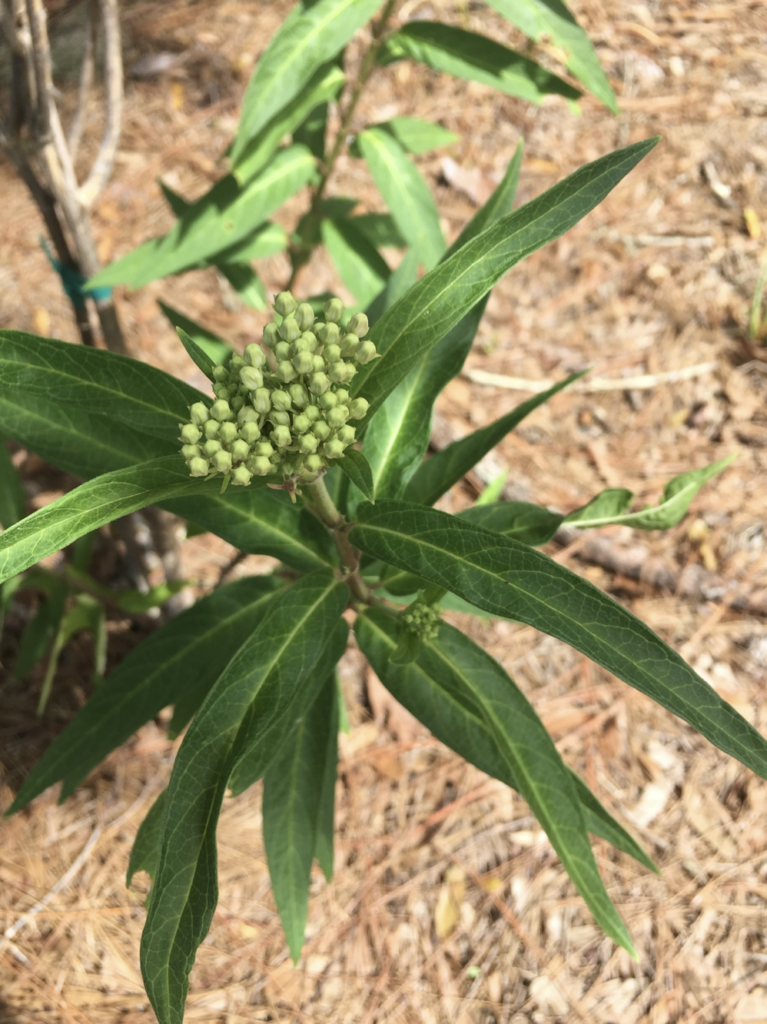 The hoverflies eventually received reinforcements from ladybugs and currently as the milkweed is about to flower there are no aphids visible on the plants.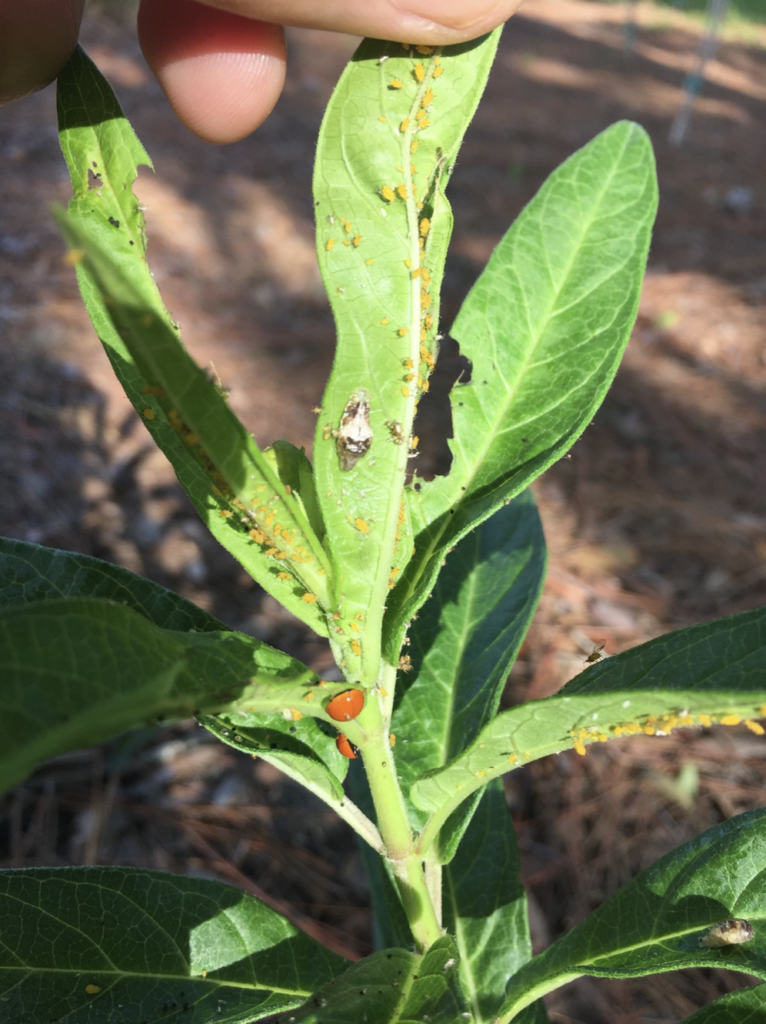 Many times, we feel the need to control nature not realizing that nature does a pretty good job of controlling itself!
Educational Webinars Program
Coming soon! Our fall webinar series to run every Wednesday from October 14 to November 4. Topics and presenters are:
"Smart Cycling 101: A Primer on Bicycle Safety", presented by Ralph Monti, certified bicycle safety instructor, The League of American Bicylists, and Deputy Cathy Duff, Sarasota County Sheriff's Office
"Birds of Three Sarasota Habitats", presented by Jeanne Dubi, President Sarasota Audubon
"Landscaping for Wildlife", presented by Tom Heiztman, Founder/Owner Sweet Bay Native Plant Nursery
"Plein Air Painting Art Exhibit/Critique", presented by Lisa Swift, SRQ Plein Air Painters
Leadership Team member Ralph Monti is coordinating the webinars. This Program is funded by a grant from the Gulf Coast Community Foundation.
FOJT Donates Items to County Parks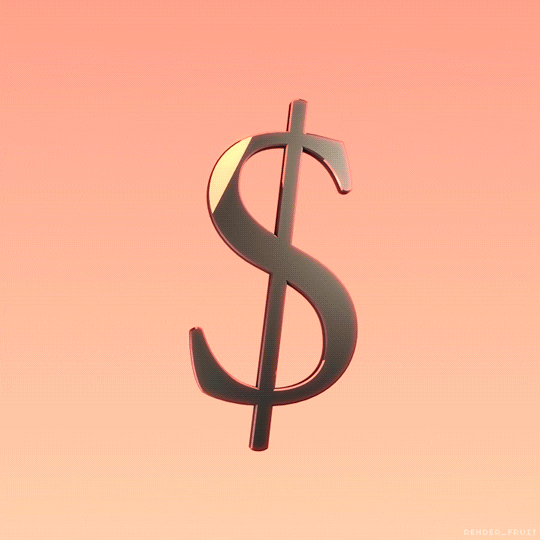 We recently donated $10,383 worth of furnishings and improvements in the Visitor Center and $3,866 worth of exterior improvements and gardens for a total of $14,249 donated items to Sarasota County Parks. These items were purchased with grant money from the Community Foundation of Sarasota County. Many of these items were installed by our volunteers, which saved a significant amount of money. Thank you OJT volunteers!
A Bird You May See at OJT from Holly Vincent
Black-Bellied Whistling Duck (Dendrocygna autumnalis) previously called Black-Bellied Tree Duck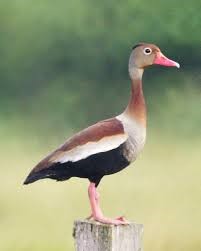 This large duck can be seen in Florida and Southeastern Texas year-round. This is the bird's northern range. It breeds in tropical areas of Central and South America. The duck's red beak, black belly and pink feet are striking. They prefer wooded areas near ponds, in parks, fields and golf courses. Osprey Junction Trailhead has provided an ideal location with trees that have cavities for nesting. Their call is high pitched and can be heard while in flight, standing or on the water.
Butterflies from Beverly Bowen
Urbanus proteus – Long-Tailed Skipper
Spread-wing Skippers Wingspan: 1.5 to 2.2 inches
Caterpillar hosts: Vine legumes including various beans (Phaseolus), hog peanuts (Amphicarpa bracteata), beggar's ticks (Desmodium), blue peas (Clitoria), and wisteria (Wisteria)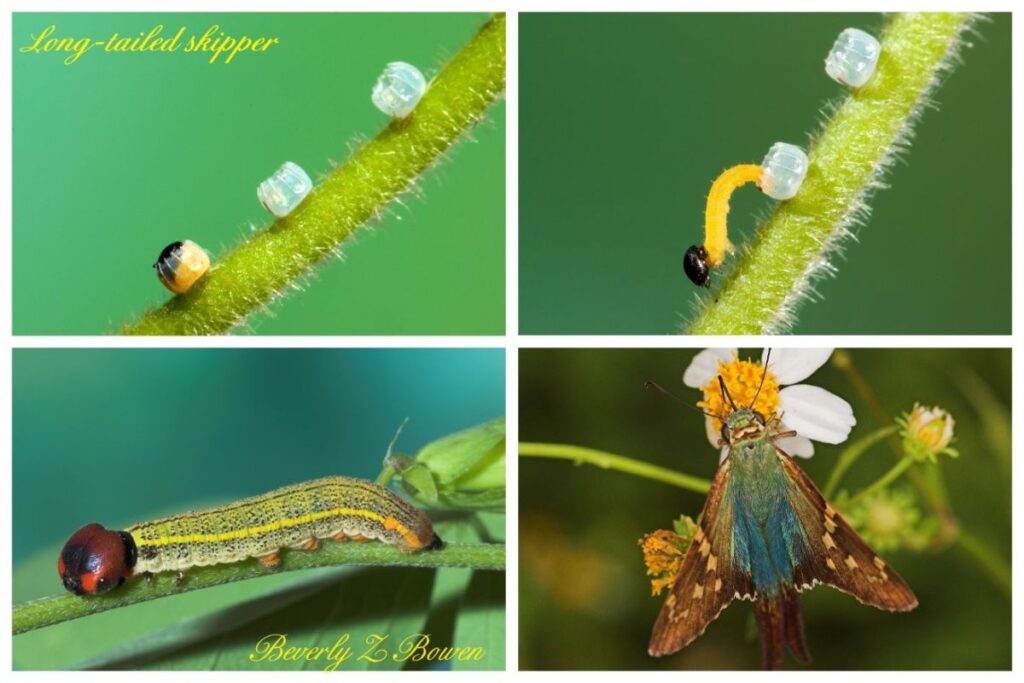 The Long-Tailed Skipper is one of the most common and attractive skipper butterflies in the Southeast. It is easily distinguished from other members of the family (Hesperiidae) by its long hindwing tails and beautiful blue-green iridescence on the upper wing surfaces. An abundant butterfly of disturbed locations, this skipper reaches especially dense populations in the late summer and early fall. Adults have a low, rapid flight but frequently stop to nectar at colorful flowers or perch in sunlit locations. Males are territorial and actively patrol their home turf in search of receptive females or invading rivals. The Long-Tailed Skipper is intolerant to cold so it migrates southward through peninsular Florida each fall. They then move northward in the summer, mainly along the coastal plain.
The tiny caterpillar ecloses from the egg shell by chewing through the tip of the egg. The new caterpillars are yellow with black heads. They begin crawling around the plant and chewing slivers out of the leaves to construct their special hiding spot. The Long-tailed Skipper caterpillar must hide from predators after hatching. Some of its enemies include wasps, birds, spiders, ants, dragon flies, and frogs. The caterpillar will choose a leaf and start work on creating a shelter to hide inside. It makes a shelter by chewing out a piece of the leaf and wrapping it around itself. The caterpillar hides in its shelter during the day, but eats at night when fewer predators are around.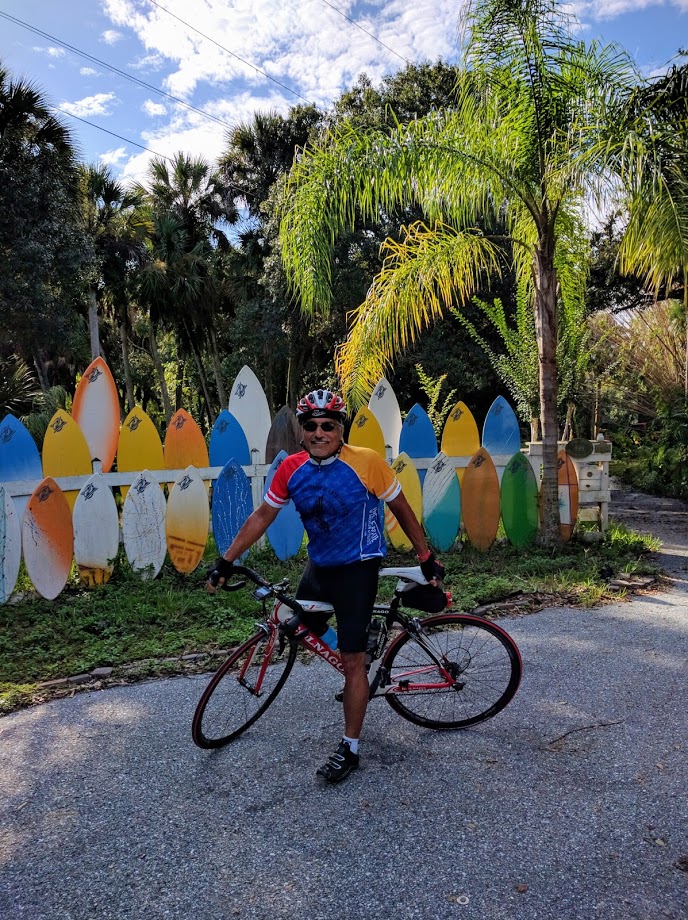 Biking Tips from Ralph Monti
Saddle Bag Basics: What to Carry on Your Next Ride
You should always carry some basic tools and supplies when on a bike ride. They will help if you have a mechanical problem like a flat tire, etc. By having these on hand, you'll be prepared to handle any small, on-the-road-repair. Most of these can be purchased at your local bike shop.
Saddle Bag Supplies:
Spare tube
Tire patch kit
CO2 Inflator
CO2 cartridge (two if possible)
Set of tire levers
Small pieces of duct tape (can be wrapped around a tire lever)
Multi-hex tool
Mini pump (may be strapped to your frame)
Tire boot (to repair a damaged tire)
Packet of baby powder (makes for easy tire install)
Tweezers (to pick out small pieces of glass, metal, etc.)
Latex gloves or hand wipes (prevents a greasy mess)
Band aids
Cash
If you've never changed a bike tire, it's easier than you think. You do need patience, however. To learn how to fix a flat, visit the Park Tool and Global Cycling Network channels on YouTube to watch a tutorial. And, if all else fails, know that AAA Florida offers pick-up service to bicyclists who have a mechanical problem and are members of their organization.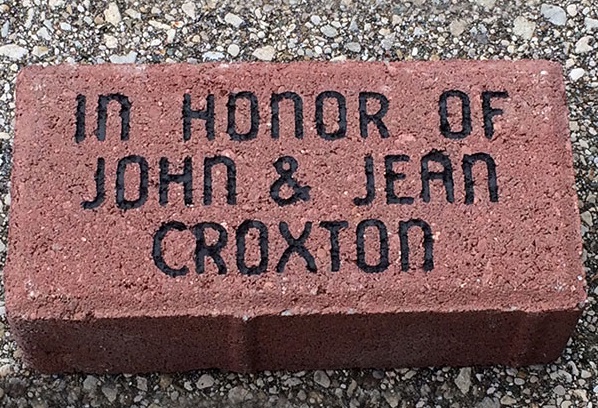 Engraved Brick Fundraising Program
Donate $150 and receive a brick with your personal message to be installed later this year in a patio by the OJT Visitor Center. Help support our programs and projects.