Enjoy a fun and relaxing 45-minute ride on The Legacy Trail
For ages five and up. It's free!
How to register
Who can ride?
Passengers ages five and up of all physical abilities are welcome to ride but each passenger must be able to climb up and down one step and sit upright unassisted. Children under 18 must by accompanied by a parent or adult guardian. Children under 16 must wear their bike helmet. Sorry, no pets are allowed.
How many passengers can ride?
The pedicab can accommodate two passengers with a 300 pound weight limit.
How much does it cost?
It's free! There is no cost thanks to a grant from the Gulf Coast Community Foundation, the volunteer pedalers, Sarasota County Parks and Friends of Osprey Junction Trailhead.
When are the rides?
January 30 through April 30 every Thursday at 10 am, 11 am, and noon. Please arrive at least 15 minutes early.
Where are the rides?
Rides start and end at the two-pole shelter next to the parking lot by The Legacy Trail at Osprey Junction Trailhead Park. The park address is 939 East Bay Street, Osprey, Fl 34229.
Are there any safety concerns?
The pedicab is very stable with side steps, a hand rail, seat belt and brake/running/turn signal lights. All passengers are asked to sign a safety/risk waiver.
Who operates the pedicab?
The pedicab is pedal-powered by a Sarasota County volunteer who is an experienced bike rider, is familiar with The Legacy Trail, practices trail etiquette and follows trail safety rules.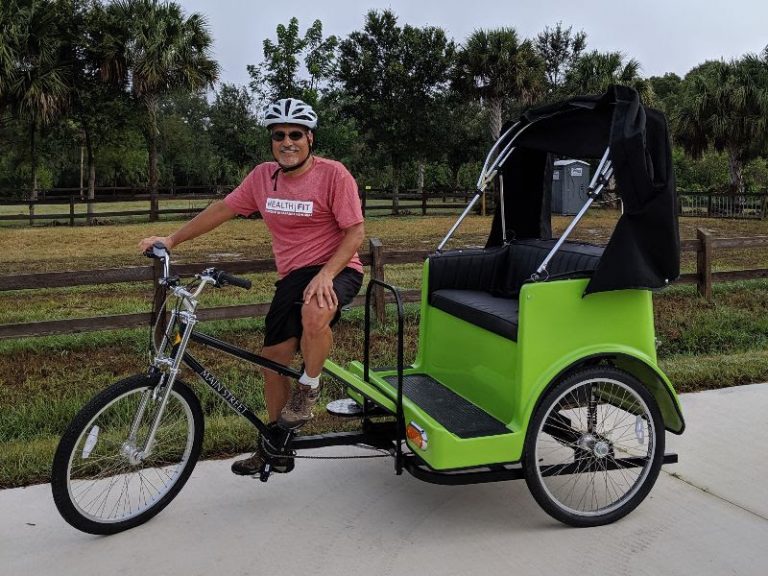 How can I support the Pedicab Ride Program?
Tax deductible donations may be made by mail using the pre-addressed envelopes available at the time of your ride. Friends of Osprey Junction Trailhead is a chapter of Friends of Sarasota County Parks, a 501c3 non-profit organization.
What about the weather?
Pedicab rides may be cancelled due to rain or extreme cold and you will be notified by email.
How do I register to ride?
Advanced registration is required.
Go to the Events page

From the "Events" link at the very top of this page (if you are on a mobile device, tap on the menu icon)
Or Click Here

On the Events page, click on the month, day and time you would like to register.
Scroll down, enter the number of passengers, your full name, your email and click on the "Confirm RSVP" button.
You're done